Active Aging Classes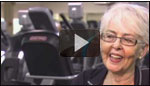 Watch what our Active Aging members say about the importance of exercising at any age.

24 Hour Fitness active aging group exercise classes are designed to help older adults maintain their cardiovascular health, strength, and flexibility. Whether you're a veteran gym member or a newcomer, we welcome you to come and enjoy the benefits of working out in a group setting. The availability of group exercise classes varies by 24 Hour Fitness location.
Active Aging Reviews