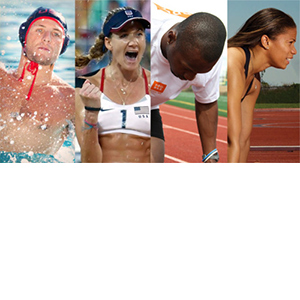 Team 24 Sponsored Athletes
Once again, 24 Hour Fitness is a proud sponsor the U.S.Olympic Committee and the Official Fitness Center Sponsor of the U.S. Olympic and Paralympic Teams (find out more).
In addition, we've also partnered with four athletes to help them achieve their Olympic dreams. We're happy to introduce "Team24" and encourage you to find out more about them below!

KERRI WALSH
USA Volleyball, 2004 and 2008 Olympic Gold Medalist
Defending her two-time gold-winning record, Kerri's endurance as a world-class athlete is an inspiration. Kerri and her teammate Misty May- Treanor kicked off competition on July 28 in what will surely be a highlight of the Olympic Games, going for their 3rd gold. The Walsh-Jenning and May-Treanor team have advanced into the finals which take place tonight. They'll compete against Americans April Ross and Jen Kessey to determine which team gets Gold and which team gets Silver. We wish Kerri and Misty good luck in this final round!

TONY AZEVEDO
USA Water Polo, 2008 Olympic Silver Medalist
While this is Tony's first time as a 24 Hour Fitness sponsored athlete, this summer will mark the attacking water polo player's fourth appearance at an Olympic Games! Having spearheaded his team's silver-winning run in Beijing, it's Tony's dream to bring home men's gold for the first time since 1904. Tony and TeamUSA go up against Croatia today in the Men's #1 Quarterfinal. We'll be cheering on TeamUSA and look forward to seeing them in the finals!

APRIL HOLMES
U.S. Paralympic Track & Field, 2004 Bronze Medalist and 2008 Gold Medalist
These are just a few of the words you could use to describe the amazing April Holmes. A star U.S. Paralympian and multiple world record holder, April is the world's fastest female amputee, which makes us the world's proudest sponsor. April kicks off her bid to dominate three sprint events on August 31st. Go get 'em April!


RUBIN WILLIAMS
Team USA track & field hopeful and 24 Hour Fitness employee
Not only is he a fast sprinter and a fine athlete, but he's also one of our very own; a 24 Hour Fitness team member. In between his grueling training schedule, you'll find Rubin's smiling face at his local club, the San Jose Super-Sport. Unfortunately, Rubin didn't make TeamUSA this year but just being able to try out is an experience most of us will never get!