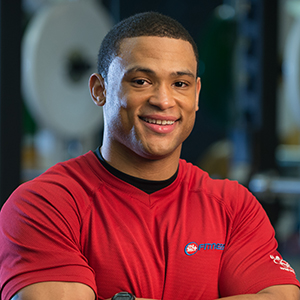 Josh Wise Visits USOC Training Center in Colorado
Editor's note: In December, 24 Hour Fitness personal trainer and fitness manager Josh Wise from Arlington, TX traveled to the USOC Olympic Training Center in Colorado Springs to find out that everyday athletes and Olympic hopefuls share some of the same challenges and even workout moves. Just in time for the Sochi 2014 Olympic Games in Russia, read about his visit. Then check out Team USA-inspired workouts and watch Josh Wise's demos and interviews at 24hourfitness.com/teamusa.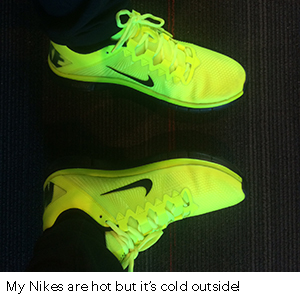 December 10, 2013
1 p.m. Waiting to take off for USOC Olympic Training Center in Colorado Springs. Good thing the freezing rain and ice in Dallas have thawed in time for takeoff. I can't wait to check out the official weight room where we'll be filming.
7 p.m. Checked into The Mining Exchange Hotel. There's a safe on every floor – this was the place where the mining industry conducted all of its business a century before Team USA put its headquarters here in Colorado Springs.
8 p.m. Pasta with lobster and cream sauce and script review for dinner – carb-loading for tomorrow! I'll need the energy for exercises that Olympic hopefuls do, and some left over for USOC experts I'll be talking to about sports psychology, nutrition and technology.


December 11, 2013
6 a.m. Warm-up calling! Today's the big day in front of the camera. Off to the 24 Hour Fitness Broadmoor Sport club in Colorado Springs to work off some nerves before the interviews.
9:15 a.m. Quick stop to pick up a couple of energy drinks and bars before we head into the Olympic Training Center.
9:30 a.m. Through the gates and onto the USOC Olympic Training Center campus, then through the dining hall and past dorms to get to the weight room where we'll be taping.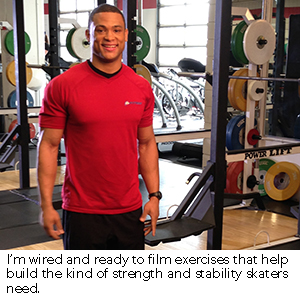 10 a.m. We're going to film exercise demonstrations in the weight room while it's not very busy, although some women boxers are practicing moves with dumbbells.
11 a.m. Finished exercises that help build bilateral strength for alpine skiing, full-bo dy strength for snowboarding and bobsledding, speed and stamina for ice hockey and speed skating. Turns out my personal training clients have a lot in common with elite athletes – we all do the same bodyweight exercises, just with more reps and more weight.
12 noon Quick but healthy – grilled chicken breast, pasta with tomato sauce, some salad and yogurt with fruit, so I'm ready to interview USOC experts.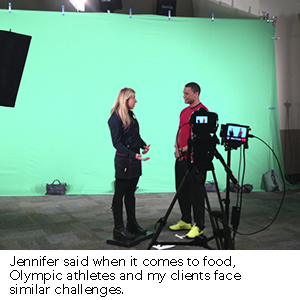 1:30 p.m. Jennifer Gibson is a sport dietitian at the USOC. Can't wait for my clients to watch our video to find out how Team USA deals with nutrition, weight loss vs. muscle building, and the occasional honey bun.
2 p.m. USOC sport psychologist Karen Cogan shared some really interesting insights into elite athletes' experiences and how they handle death-defying stunts and everyday competitive anxiety.
2:30 p.m. Team USA athletes have some amazing technology and athletic gear at their fingertips, but Mounir Zok, senior sports technologist, told me they don't use it just because it's there.
3 p.m. Packed up and ready to hit the road. We have a two-hour drive back to Denver and I can't miss the last flight out – I have clients to train tomorrow!