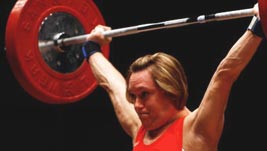 meet Carissa Gump
Carissa Gump (formerly Carissa Gordon) began her weightlifting career at age 13 and soon after qualified for her first national competition, the junior nationals, where she placed second. She graduated early from Essex High School in Vermont so she could begin instruction at the Olympic Training Center in Colorado Springs, where she was the youngest athlete.
Carissa has set a number of American records and won several national championships since then, including the 2008 National Championships, the 2005 and 2007 Collegiate National Championships, the 2004-2005 Mermet Cup, and the 2004 Senior Nationals and 2003 Titan Games.
Weightlifting has become a family business since Carissa married competitive weightlifter Jason Gump in 2006. Jason's Olympic dreams are temporarily sidelined due to injuries, but with his love and support behind her, Carissa will carry the torch for both of them at the Beijing Games.
Carissa stats
Weightlifting, 63 kg position
Ranked first in her weight class for Team USA 2008
Set weightlifting clean and jerk record at American Open 2007 for 120 kg (264.4 lbs.)
Five-time consecutive American Open champion (2002 to 2006)
International competition best—Pan Am Championships 2005
Best competition total—212 kg, December 2007
fun facts
Born: August 24, 1983
Hometown: Born in Stone Ridge, New York and raised in Essex Junction, Vermont, Carissa now resides in Colorado Springs, Colorado.
Eating Right: On average, Carissa's diet includes 2,500 to 3,500 calories a day, which includes lots of carbs—bagels and pasta—and tuna.
Family: Carissa's only sibling was killed in 2001 in a head-on collision with a ski lodge bus. Carissa has a footprint tattoo to symbolize walking together through life with her sister.
Favorite TV Show: House
Did you know?...Carissa is married to a fellow competitive weightlifter, Jason Gump. Carissa and Jason were the first husband and wife to win the American Open (2006).