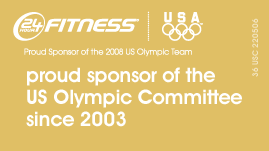 the High Performance Training Center
live blog from our Fitness Ambassadors in Beijing
Fitness Ambassadors will be blogging live from Beijing. Read about their experience working with US Olympic athletes at the High Performance Training Center.
Read now
helping Team USA
We are very excited to have our trainers represent 24 Hour Fitness and our country as they travel to Beijing to support our Olympic athletes. Attending the Games to work with Team USA in the High Performance Training Center promises to be a once in a lifetime experience. At 24 Hour Fitness we consider our members part of Team USA, too. We are committed to helping them change their lives through fitness-whether that means losing a few pounds or winning a gold medal, and we look forward to sharing our Olympic experience with all of our 24 Hour Fitness trainers and members alike.
we do it for the athletes
24 Hour Fitness is the official fitness center sponsor of the United States Olympic Team. We  support our athletes in their quest to bring home the gold and we believe in the Olympic movement's message of peace and building a better world through athletic competition. We are aware of issues that have been raised, but our focus is to help our American athletes prepare for the Games and reach their goals.