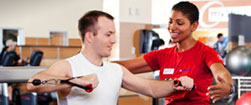 Personal Trainer Chad H.
Master Trainer


Master Trainer
Team Member Since: 2001 Sessions Serviced:5,000 +

 

General availability:1
(Availability may vary, we can't
always guarantee your first choice.)

Sun:
Mon:
Tues:
Wed:
Thurs:
Fri:
Sat:



8:00 am 8:00 pm
8:00 am 8:00 pm
8:00 am 8:00 pm
8:00 am 8:00 pm
8:00 am 8:00 pm
8:00 am 1:00 pm

Contact Chad by email.
Contact us by email with general questions
View other Personal Trainers at this location.
1 We'll make every effort to match you with the Personal Trainer you've selected. However, if your trainer isn't available, another trainer will be assigned to you. Keep in mind that you're purchasing a personal training program and not the services of a specific Personal Trainer. You're not entitled to a refund if the Personal Trainer you selected is not available.
Bio
I became a trainer to work in a field that I was not sitting behind a desk and making a difference in peoples lives.  I feel your health is the number 1 focus in everyones lives because if your health is jeopardized you are unable to do daily tasks and interests.
Education and Certifications
Aerobic and Fitness Association of America - Personal Trainer Certification
CPR Certification
International Sports Sciences Assoc. - Personal Trainer Certification
National Academy of Sports Medicine - Corrective Exercise Specialist
National Academy of Sports Medicine - Certified Personal Trainer
National Academy of Sports Medicine - Performance Enhancement Specialist
Interests and Achievements
Hiking
Skiing
Weight training
NON-MEMBERS
Only 24 Hour Fitness members can purchase Personal Training. However, you can purchase a membership online and then choose this Personal Trainer after!
 MEMBERS
Get Started or Re-Sign with this Personal Trainer
Your personalized fitness training program can start whenever you're ready!  Here are your options to get started:
If you're new, please enter your info below to check pricing and purchase online.
If you'd like to re-sign with this trainer, please enter your info below.
Note - you can also re-sign or buy Personal Training sessions when you're logged in to My24 Online. Just click Add to My Membership and then choose Buy/Re-Sign Training.
What's next
After you purchase your sessions online, your Personal Trainer or the Fitness Manager will call you in 2-3 business days to schedule your first session.
If you'd like to get started sooner, please call or visit the club.