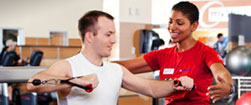 Personal Trainer Dom V.

Certified Personal Trainer
Team Member Since: 2011
 

General availability:1
(Availability may vary, we can't
always guarantee your first choice.)

Sun:
Mon:
Tues:
Wed:
Thurs:
Fri:
Sat:


7:00 am 2:00 pm
7:00 am 8:00 pm
7:00 am 8:00 pm
7:00 am 8:00 pm
7:00 am 8:00 pm
7:00 am 1:00 pm


Contact Dom by email.
Contact us by email with general questions
View other Personal Trainers at this location.
1 We'll make every effort to match you with the Personal Trainer you've selected. However, if your trainer isn't available, another trainer will be assigned to you. Keep in mind that you're purchasing a personal training program and not the services of a specific Personal Trainer. You're not entitled to a refund if the Personal Trainer you selected is not available.
Bio
When I first became a member at 24 Hour Fitness I thought I knew it all, but after several attempts to reach my fitness goal I realized I needed help. Coming from a back ground of a champion wrestler, this was an eye opener for me. I realized that I needed to hire and work with a personal trainer to learn how to reach my personal fitness goals. The knowledge that I gained through my trainer not only helped me get the results I wanted, but it lead me to become a trainer. Working one on one with people to help them improve their quality of life is something I truly enjoy.
Education and Certifications
AED (Automated External Defibrillator)
CPR Certification
National Academy of Sports Medicine - Certified Personal Trainer
National Council on Strength and Fitness - Personal Trainer
Interests and Achievements
Wrestling / Mixed Martial Arts
All outdoor activities
Anything competitive
NON-MEMBERS
Only 24 Hour Fitness members can purchase Personal Training. However, you can purchase a membership online and then choose this Personal Trainer after!
 MEMBERS
Get Started or Re-Sign with this Personal Trainer
Your personalized fitness training program can start whenever you're ready!  Here are your options to get started:
If you're new, please enter your info below to check pricing and purchase online.
If you'd like to re-sign with this trainer, please enter your info below.
Note - you can also re-sign or buy Personal Training sessions when you're logged in to My24 Online. Just click Add to My Membership and then choose Buy/Re-Sign Training.
What's next
After you purchase your sessions online, your Personal Trainer or the Fitness Manager will call you in 2-3 business days to schedule your first session.
If you'd like to get started sooner, please call or visit the club.