Video - TRX Suspension Training
Mobile User detected.
To view a mobile optimized
version of this site,
click here
TRX® Suspension Training®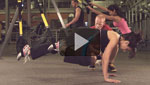 An exciting new way to expand, enhance, and enjoy your workout at select 24 Hour Fitness clubs.
WATCH VIDEO
A complete total body training system
TRX Suspension Training is a revolutionary method of leveraged bodyweight exercise that allows you to be in control and safely perform hundreds of exercises that build strength, flexibility, mobility, and cardio endurance all at the intensity that works for you.
Enjoy the versatility of the TRX training system
You're in control over how much you want to challenge yourself with every TRX exercise because you can adjust your body position to instantly adapt resistance. Get quick, total body workouts with full body movements that engage the core, upper and lower body simultaneously.
Maximize your workouts with the TRX® Suspension Trainer™. Training is now available. Talk to a Personal Trainer for complete details or sign up today.
TRX® TEAM™ Training Camps are now available at select clubs!
Enjoy a unique and challenging boot camp style training program:
 • Get the benefits of personal training in a small group setting
 • Stay motivated with fun team-oriented workouts
 • Take part in progressive workouts designed for maximum results
 • Improve core stability, strength, agility and balance
TRX TEAM Training Camps are held twice a week for six weeks and available at Sunnyvale, San Ramon and Pleasanton clubs. Please contact each club directly for class times.Cost is $239.99.
Space is limited. Contact the club to learn more or see a Team Member at the front desk to sign up.