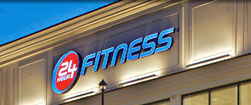 Our Newest Clubs
Find a newly opened club near you
With more than 400 locations nationwide, 24 Hour Fitness is always opening new fitness centers. Visit this page often to find out about clubs that have just opened in your area.
Every time we open the doors on a new club near your home or work, you gain a potential workout location. Having a 24 Hour Fitness club right in your neighborhood may be just the inspiration you need to become a member, or to upgrade your current membership to include the new location. You'll enjoy state-of-the-art equipment, cardio and resistance training, and free, high-energy group exercise classes just minutes from where you live or work.
We offer many exciting deals for joining our newly opened clubs. As a result, you may find that working out at a new location gives you the best possible membership experience at the best possible value.
New club listings
The newest 24 Hour Fitness locations are listed below. If any of these clubs are in your neighborhood and you're i nterested in joining, just click the links to get more information and start the membership process.
California
Fullerton
130 E. Imperial Highway
Fullerton, CA 92835
(714) 869-0643
Santa Ana Edinger
1400 West Edinger Avenue
Santa Ana, CA 92704
(657) 273-5919
Mission Hills
10400 Sepulveda Blvd
Mission Hills, CA 91345
(818) 493-5440
Riverside Madison
3490 Madison Street
Riverside, CA 92504
(951) 324-5334
Colorado
Arvada
12680 West 64th Avenue
Arvada, CO 80004
(303) 217-9721
Florida
Apopka
2360 E. Semoran Blvd
Apopka, FL 32703
(407) 358-7233
New York
Pelham Manor
887 Pelham Parkway
Pelham Manor, NY 10803
(914) 229-3042
Scarsdale
668 Central Park Avenue
Scarsdale, NY 10583
(914) 574-4245
Washington
Tacoma
111 South 38th Street
Tacoma, WA 98418
(253) 240-3483
Find a Career that Changes Lives
Are you looking for a career that allows you to incorporate your passion for personal health, wellness, and fitness values into your professional life? Do you live near a 24 Hour Fitness location? If you answered yes to these questions, then consider your career options as a member of the 24 Hour Fitness team.
24 Hour Fitness seeks to make fitness a way of life for everyone, and our team members are the key to fulfilling that mission. Their dedication sets the example, their drive yields results, and their passion inspires change. When you join the 24 Hour Fitness team, you have the opportunity to change countless lives through fitness, one at a time.
Check out our Careers section for current career opportunities in your area. Search for a position here
Adobe Flash Player required to view this content



Adobe Flash Player required to view this content