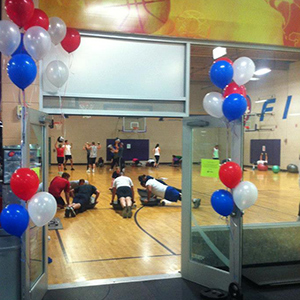 Boot Camp - Santee, CA
Although I've exercised and worked out most of my life, this was my first boot camp EVER and I was pretty intimidated. For starters, Santee Sport isn't my regular club (it's about 15 min from home) but a friend bullied... er convinced me to try it out. I wasn't sure what to expect, how I'd do, would I be the slowest or last in the group, etc.
This boot camp had four stations with a personal trainer that focused on a specific body part. The personal trainers in Santee will do this boot camp every week for nine weeks and then introduce a new format for the next boot camp. This club plans to do one boot camp every quarter. Remember, the format and frequency may be different at your club. For more general info about boot camps, check out this blog post.

At the beginning of the boot camp we did a warm up and some stretching as a group. Then we broke up into smaller groups and started at one of the stations. You do the exercises at one station for about 5 minutes, then walk/run laps for 1-2 minutes, go to the next station, etc.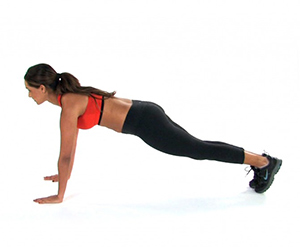 STATION 1
My first station was a crazy cornucopia of cardio led by personal trainer Matt. First we ran in place, pulling our knees up to our chest for a minute or so. Then we switched to mountain climbers - those crazy things where you're in a push up position and you shift your legs back and forth (see image). After the mountain climbers, we did some jumping jacks and then the trainer yells "change stations."

Run, run, run for a couple minutes.

STATION 2
Personal trainer Collin's station focused on the upper body. We started out with some regular push ups and then moved our hands closer to our bodies and did push ups that focused more on our triceps. Next we did some lateral raises to focus on our shoulders. Even though I wasn't using any weights, my muscles were burning because of the number of repetitions and length of time holding my arms up.

Change stations... run, run, run for a couple more minutes. The trainers ran along with us, hollering "move it, move it, move it" and cheering us on. The other campers were laughing, hooting and hollering right back at the trainers but I was so out of breath all I could do was whimper. Keep in mind, I recently got back to the gym after a month or so off recovering from an injury.

STATION 3
Station 3, led by personal trainer Joe was all about legs. We did squats and calf raises then finished up with some super fun lunges! Typically I would do these exercises with weights but with the repetition and no breaks between exercises my heart was pumping and my muscles burning. A couple people brought weights from home to make this section harder. If you'd like to add weights, please bring them from home so members in the weight room won't have to wait an hour to use them.

Change stations... walk, walk, walk laps for a few minutes. By this time I was so out of breath that I just needed to walk. Of course the goal is to push yourself as much as possible but you should never do more than you can handle. There are people of all different ages and fitness levels in the boot camp and everyone is encouraged to do what is right for them.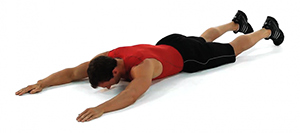 STATION 4
Oh miss Laren at Station 4 how you pushed us so hard. When I saw people on mats I thought there would be some stretching which would help me catch my breath. NOPE, it was core work. We started with planks, some sit ups, a few more mountain climbers and finished up with superman's (see image).

'OK, chaannge stations!' Walk, run, walk and then back to Station 1 again. Being my first boot camp, I thought we were done. I looked at my watch and we'd only been at it for 15 minutes or so! We went through the circuit two more times but with different exercises at each station. At the end of the class we got back together as a group to cool down and do some stretching. It was only 10am on a Saturday, normally I'd be home with coffee and thinking about what I was going to do for the day. Instead, I was energized, I'd finished a fantastic workout and was ready to conquer the day.


I encourage you to check out a boot camp at your club. As I mentioned earlier, it's a fantastic full body workout, cardio galore and a great opportunity to meet other members and personal trainers at your gym. Some clubs post their boot camps on their Group X schedule online but others will advertise it in the gym.