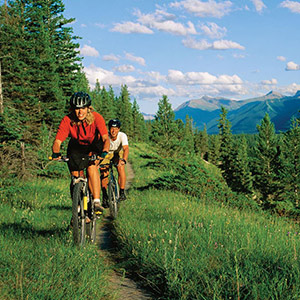 Warm Up to Spring - 10 Reasons for Warming Up
With longer days and warmer weather, many of us are gearing up for spring and summer outdoor activities. Whether you're working out indoors or out, don't overlook the importance of a proper warm up.
If you're short on time don't skip the warm up - as it turns out, the 10 minute warm up is more important than a few more reps or extra cardio time. Here are my top ten reasons for warming up before you exercise.
INCREASES BREAKDOWN OF OXYHEMOGLOBIN
A... say what?! In lay person's terms, warming up helps break down oxyhemoglobin - a chemical combo of oxygen and hemoglobin. This helps separate oxygen from the blood which allows oxygen to get the muscles faster. This will help your muscles perform better, giving you a better workout.
INCREASES BODY TEMPERATURE
A general warm up increases your overall body temperature which lowers your risk for muscle and connective tissue injuries. Aim for 10 minutes of light cardio - just enough to break a sweat.
INCREASES BLOOD FLOW TO EXERCISING MUSCLES
Blood carries the nutrients your muscles need to lift, run, jump, etc. The more blood that reaches the muscles, the faster and harder your muscles can work.
INCREASES BLOOD FLOW TO THE HEART
Just as blood carries nutrients to the muscles, it also carries waste products back to your heart. Muscles use nutrients to produce energy and the left over stuff and by-products has to get back to the heart so your body can get rid of it.
DECREASES MUSCLE VISCOSITY
Hey, if viscosity is bad for your car engine, imagine the affect it has on your muscles. Warming up enhances the suppleness of the muscle which helps prevent injury and improves performance.
PROMOTES SWEATING
Sweat is good! Sweating reduces the amount of heat stored in the body allowing you to keep exercising and not over heat. A fun fact... did you know your body spends more energy cooling itself than through any other activity?
ENHANCES THE SPEED OF NERVE TRANSMISSIONS
Motor functions improve greatly when you're warmed up. Need proof? Get out of bed and run to the front door. You'll probably bump into something, or worse fall down. If you walked to the front door and stretched, you could run like a champ! This is especially helpful if your exercise is related to a sport.
INCREASES THE BLOOD SATURATION OF MUSCLES AND CONNECTIVE TISSUE
Sounds messy but the more blood reaching the muscles, tendons and ligaments, the better the elasticity of these tissues. Which means better performance and reduced chance of injuries.
PREPARES THE CARDIOVASCULAR SYSTEM
A good warm up helps the heart and blood vessels adjust to the body's increased demands for blood and oxygen.
PREPARES MUSCLES FOR THE UPCOMING WORKLOAD
Warming up may reduce the likelihood of excessive muscle soreness.