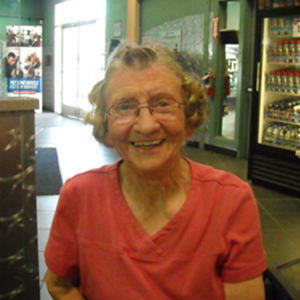 Inspiring Member June from our San Carlos, CA
Everyone meet June, an inspiring member from our 24 Hour Fitness - San Carlos, CA location. June is 90 years young and still going strong! June doesn't just walk on the treadmill or lift a few weights, you can usually find her in her favorite group exercise class, Turbo Kickboxing! Here is her story.
"In 1982 I retired as a teacher and school librarian. A neighbor told me of an excellent fitness class at a two year college so I joined and stayed with it for 27 years. The first instructor was much like a Staff Sergeant so with my salute and thoughts: "Yes Sir, anything you demand, I will do Sir."
He challenged me to climb steep hills, do many sit-ups from my knees and toes and push-ups - all of which still shows on my upper arm. He also had us do heavy warm ups before going out to run hills, as he sang "On the road again." It was fun and difficult at first.
I ran the San Francisco "Bay to Breakers Foot Races" eleven times when my husband and I were not vacationing in May. I was not a great runner but I enjoyed the challenge. My best year was 1988 with my completion number 13,303 of the 100,000 runners. My last Foot Race was in May 2004 at almost age 81 (my birthday is June 10). My doctor warned me then: "You have osteoporosis in your hips and you can easily be tripped by another runner, ending up in a wheel chair or worse."
When the Instructor retired, a female Instructor continued and eventually turned the class into a family of young and old, keeping fit and learning to "EAT WISE."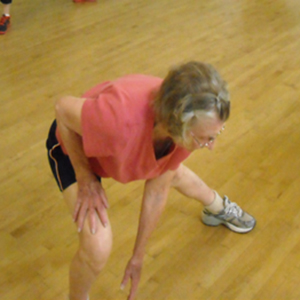 Every third semester something in the class had to be new and different, according to the State. At first it seemed difficulty was added with each change, and later it seemed difficulty was being dropped out with each change. I was getting little movement. I liked the Instructor and friends in the class; but I felt I needed to change -- - I HAD to quit the class.
I found 24 Hour Fitness, and the class that fits my desire: an hour of constant movement: Turbo kick box..
box. My doctor had me take my blood pressure Monitor with me, to test immediately after the class ended; then about fifteen minutes later at home. She approved the class. "to continue into your 90s".
I am a happy 4 foot 11 inch; 103 pound little ol' lady twice a week attempting to keep up with the younger people in the class."