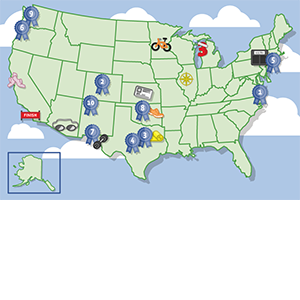 America's Fittest Cities - 2013
BusinessInsider.com recently pulled together a list of the Fittest Cities in America using data from Facebook. Business Insider complied data from Facebook users who used fitness apps, checked-in at gyms and updated their online status with health and fitness-related topics.
While the fittest city Virginia Beach, VA is not a 24 Hour Fitness city, many of the cities on the list are home to 24 Hour Fitness clubs! In addition to the top 10 fittest cities, the data also showed other fit-related interests in certain cities. For example, the city with the most mentions of marathons was San Diego, CA, the most talk about yoga was going on between residents of Austin, TX - both of which are 24 Hour Fitness cities!
Check out the graphic below to see how your city did!