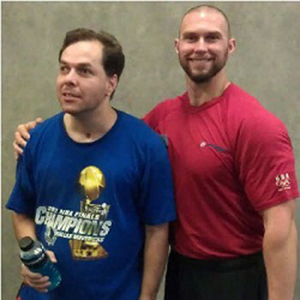 24 Hour Fitness Member Conquers the Stairs
If this story isn't motivating, we don't know what is! 24 Hour Fitness member Jeff L. from our Fort Worth Horne Sport location in Fort Worth, TX has been dealing with mobility and balance issues for over 20 years. After working with 24 Hour Fitness Master Trainer Rob B. (pictured with Jeff), Jeff has finally conquered one of his biggest nemeses, the stairs.
Twenty years ago, 24 Hour Fitness member Jeff L. was involved in a serious accident that left him in a coma for three months.
When Jeff woke from his coma, he had permanently lost his vision. Aside from the regular adjustments of losing ones sight, Jeff also experienced posture and balance problems which affected his ability to get around. After many years, the situation worsened and Jeff found himself unable to navigate stairs and constantly running into things.
Jeff decided it was time to do something about it! He joined his local 24 Hour Fitness in Fort Worth, TX and began working with Master Trainer Rob B. After only 12 weeks, Jeff's posture improved, he was able to walk with less assistance and he started using the stairs on his own.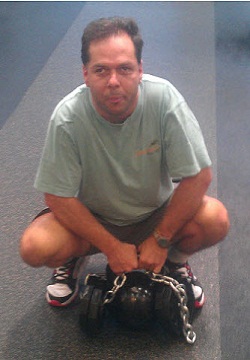 Jeff's favorite exercises are using kettle bells and TRX. Jeff is proud to have worked his way up to kettle bell deadlifts with 100 pounds! Needless to say, Jeff has some new goals. Jeff is working toward adding ten pounds of lean muscle while continuing to improve his balance and coordination.
We think Jeff is a rock star! He's walking the walk (pun intended) in light of his limitations which is encouraging to all. If you see Jeff at Fort Worth Horne Sport, say hello and let him know how his story touched you.