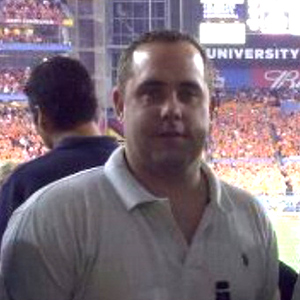 Team Member Matt F. Loses 50 Pounds!
24 Hour Fitness Team Member Matt F. from Glendale Bell Sport in Arizona is practicing what he preaches. With great determination and the help from personal trainers, Matt overcame many obstacles - resulting in an almost 50 pound weight loss to date.
Matt's Story: I joined the Army in 2004 and was having a pretty normal experience in the beginning. During my last three years I started having back problems and was placed on an extremely limited profile (activities and duties I could do) that prevented me from doing any exercise. Finally in May of 2010, I received a neuro-stimulator (it's still on board today!) to help with the pain but the Army still wouldn't allow me to exercise.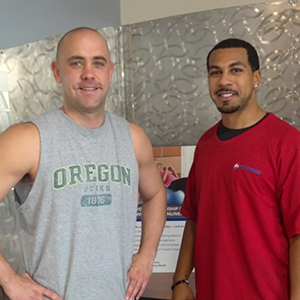 When I decided to join 24 Hour Fitness last year, I was weighing in at just less than 240 pounds with a body fat around 30%. Since I was now out of the Army and they had no control over me, I refused to let my pain control me and I was determined to lose the weight.
Once I joined, I used knowledge I learned in the Army and pointers from the fitness orientation I had with a trainer at the Chandler club. I started to see results almost immediately!
I was working out five days a week, using the bodybugg and the My Fitness Pal app on my Android to manage my calories. I was doing a min 30 minutes of cardio daily, as well as one hour of weight training, the pounds started to go away.
In May of 2012, I was lucky enough to be hired as a Membership Counselor in Tempe. At that time, I started picking the brains of the trainers I worked with and even began working out with them in our off time. Finally in July, I purchased three sessions and trained with Ed and Heather.
They focused on my core and back, since that's where I truly needed the help for my medical conditions. The sessions helped tremendously, so I purchased more sessions in July and even more in August. I've been working with a couple different trainers in Tempe (Lindsey J.) and Glendale, AZ (Brian C. and Brandon U.).
I have no doubt in my mind, that without the help and knowledge of these trainers, my back and core wouldn't be as strong as it is today. Aside from my back problems, my overall fitness level has improved and I'm down to 192 pounds with a body fat percentage of 14%. Thanks to everyone who has helped me along the way, I couldn't have done it without you guys!