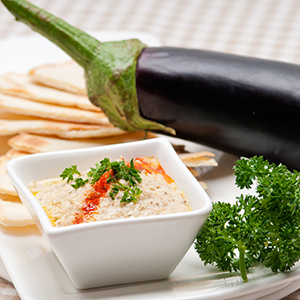 Foodie Friday - Baba Ganoush
The end of summer is the perfect time for eggplant! This grilled Middle Eastern dip is healthy and easy to make. Try it as a dip with fresh veggies and pita bread OR spread it on sandwiches to replace high-fat condiments like mayonnaise.
INGREDIENTS
2 medium eggplants
4 cloves garlic
1/4 cup fresh lemon juice
2 tbsp Tahini
1 1/4 tsp salt
Extra-virgin olive oil for garnish (optional)
INSTRUCTIONS
Preheat grill to medium-high. Poke eggplant all over with a fork. Thread garlic onto a skewer. Grill the eggplants, turning occasionally until charred and tender - about 5 minutes. Add garlic and continue grilling both for another 5 - 6 minutes. Remove from grill and allow to cool.
When cool enough to handle, peel eggplants and chop into smaller cubes. Place cubed eggplant and garlic in a food processor or blender. Add lemon juice, Tahini and salt and process until almost smooth. Place Baba Ganoush in a serving dish and drizzle with a small amount of olive oil for garnish.
Serve with sliced pita bread and/or fresh vegetables.
NUTRITION
Per 1/4 cup serving: 32 calories, 1 g fat, 0 g saturated fat, 0 mg cholesterol, 245 mg sodium, 5 g carbs and 1 g protein.