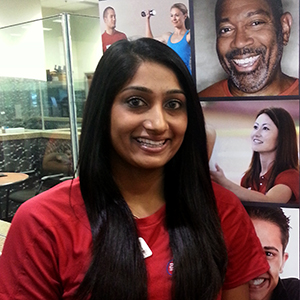 Improving our Members Experience
Personal Trainer Anisha P. from our Baytown Garth Road Sport club in Texas is always willing to lend a hand with a positive attitude and a contagious smile. In addition to training clients, Anisha can be found answering questions, giving club tours and checking in members. We asked Anisha about her job and her motivation to help others.
24HF: Why do you work at 24 Hour Fitness?
AP: I work at 24 Hour Fitness because it gives me the chance to build on my customer service skills and help people. My job also gives me the opportunity to see how I can help people who believe in fitness achieve their goals. Working here has helped me grow as a person and inspired me to reach out to more and more people who need the extra boost to get started with a healthy lifestyle.

24HF:  What is your favorite part of your job?
AP:  The best part of this job is being able to guide people to lead a more active lifestyle. I enjoy being a part of my clients' journey to accomplish their goals and to help them get there. I feel proud when seeing my clients get the results they're looking for and keeping up with their workouts. My number one priority is to help my clients realize they are worth their investment.

24HF:  What are your career goals?
AP:  I want to go to school to become a physician's assistant.
24HF:  What are some of your hobbies?
AP:  Basketball, tennis and working out.
Check out Anisha's online bio for more info!