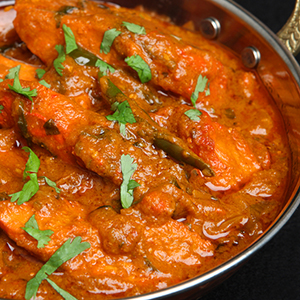 Foodie Friday - Chicken Tikka Masala
Chicken Tikka Masala is one of my favorite Indian dishes.  If you're not familiar with this dish, it's chunks of chicken simmered in a creamy tomato curry. While the regular versions of this recipe are somewhat healthy, this version uses boneless, skinless chicken breast and no heavy cream. I've also added some ideas below for making this vegetarian!
INGREDIENTS
1-pound boneless, skinless chicken breast
Juice of 1 lime
1/4 cup minced cilantro, divided
1/2 c nonfat buttermilk
1 c nonfat plain yogurt – divided
3-inch piece fresh ginger root, peeled
9 cloves garlic
4 T olive oil
1 – 2 Serrano peppers, seeded and minced (depending on preference)
2 T tomato paste
1 t Garam Masala (in the spice aisle)
2 t smoked paprika
8 Roma tomatoes, finely diced
1 t each:  salt and pepper
1 – 2 cups water
1 T dried fenugreek leaves

INSTRUCTIONS
Marinade: Combine the buttermilk, 1/2 cup of the yogurt, lime juice and 2 tablespoons of cilantro in a large mixing bowl. Finely mince the ginger root and garlic. Place 1/3 of the minced ginger and garlic into the mixing bowl. Mix well.

Cut the chicken breast into bite-sized pieces and place into the mixing bowl. Salt and pepper to taste. Toss marinade and chicken – making sure the chicken is well coated. Cover and marinate in the refrigerator for at least 30 minutes, as long as overnight.

Curry:  Heat the olive oil in a large skillet over medium high heat. Add the remaining ginger and garlic, Serrano peppers and sauté until soft. * Add the tomato paste, Garam Masala and paprika and continue cooking another minute.

*Note:  You can more or less Serrano depending on how spicy you like it. I like it milder so I usually start with one. You can always add more spice later or add to each individual serving.

Add the tomatoes, salt and pepper and 1-cup water and bring to boil. Reduce heat and simmer for about 20 minutes. Add additional water if needed to maintain a thin consistency.

Meanwhile, heat a grill to medium-high heat. Place the chicken on the grill and char on both sides. It's OK if the chicken isn't cooked all the way through, it'll finish cooking in the curry.

Puree the curry using a blender, food processor or immersion blender until smooth. Add the chicken and fenugreek leaves and simmer until chicken is cooked through, about 10 minutes. Add the remaining 1/2 cup yogurt and mix well. Serve over your favorite rice and garnish with remaining cilantro.

Makes about 4 servings
NUTRITION
Per 1/4 recipe:  344 calories, 15 g fat, 2 g saturated fat, 84 mg cholesterol, 743 mg sodium, 11 g carbs and 30 g protein.

Go Vegetarian!
You can replace the chicken breast with the following ingredients for a vegetarian version. You can also add cooked lentils or chunks of extra-firm tofu to boost protein.

2 medium potatoes
2 medium sweet potatoes
2 carrots

Peel and cube potatoes, sweet potatoes and carrots into similarly sized pieces. Steam the veggies until crisp-tender, about 3-5 minutes.  Add the veggies to the curry after you've pureed it. Simmer the curry and veggies a little longer so veggies can absorb more flavors – about 20 min or until veggies are soft.

NUTRITION - VEGETARIAN VERSION:
Per 1/4 recipe:  350 calories, 11 g fat, 1 g saturated fat, 2 mg cholesterol, 776 mg sodium, 43 g carbs and 8 g protein.