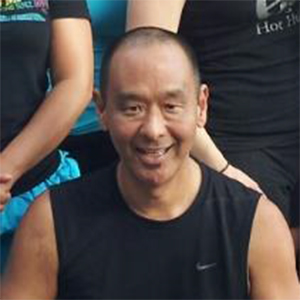 Meet Ken S. from Orange County, CA
Teaching four types of classes at eight different locations, Group X instructor Ken S. from Orange County, CA is always on the go! He stopped long enough to answer a few of our questions about what drives him.
24HF:  What got you started?
KS:  I was inspired to start teaching when I heard about a new format called HOT HULA. I went online, found it on YouTube and thought to myself, "That's not hula, it's Tahitian." Since I am from Hawaii and have danced hula since I was a kid, I thought I would go to class and "show" them how good I was. The format kicked my behind. After attending classes for two months, I got certified and started teaching my own classes.

24HF:  Which group exercise class is your favorite to teach?
KS:  Aqua classes are my favorite. I love Aqua because it is low impact, gentle on the joints and easy to modify for a wide range of fitness levels.

24HF:  Can you share your most memorable moment you had with a member?
KS: My most memorable teaching moment was when a senior fitness member came up to me after class and said, "You have saved my life! I suffered from deep depression and your class is the only thing that got me out of bed." She then hugged me and we both cried.

24HF:  What motivates you to grow as a group exercise instructor?
KS: I'm always working to improve my understanding of the human body and how it works. This is important because it allows me to offer safe and effective classes.
24HF:  Where can members find you?
KS: I teach at eight different clubs: Costa Mesa Sport, Costa Mesa Newport Super-Sport, Irvine Center Drive Super-Sport, Irvine Marketplace Super-Sport, South Coast Metro Super-Sport, Fountain Valley Active, Westminster Active, and Garden Grove Sport.