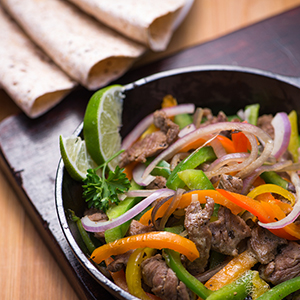 Foodie Friday - Skirt Steak & Poblano Fajitas
For many, Mexican food is a guilty pleasure... well, at least for me it is. What makes Mexican food so great is also what makes it so bad for you: cheese, fried tortillas, etc.
I'm always looking for healthy recipes that'll give me the flavor of Mexican food with less of the guilt and this fajita recipe does just that!
INGREDIENTS:
1 - 1 1/4 pounds skirt steak, trimmed
3 tsp extra-virgin olive oil, divided
1 tsp ground ancho chile
1/2 tsp ground cumin
1 tsp salt
1/4 tsp black pepper
1 medium red onion
1 poblano pepper
1 red bell pepper
1 orange bell pepper
1 tbsp lime juice
Hot sauce, for serving
12 (6-inch) corn tortillas, warmed
INSTRUCTIONS:
Rub both sides of steak with 1 teaspoon oil. Combine ancho chile, cumin, salt and pepper in a small bowl. Rub both sides of steak with the spice mixture and allow
Heat grill to medium-high heat. Seed the peppers and slice into thin strips. Peel the onion and slice into thin wedges. Place veggies and remaining 1 teaspoon oil in large bowl and toss to coat.
Place veggies in a BBQ grill basket* and grill until crisp-tender, about 5-7 minutes. Remove from grill and keep warm. Grill the steak 3-4 minutes per side. Remove steak from grill, cover and let rest.
* If you don't have a grill basket, you can stir fry veggies until crisp-tender in a large nonstick skillet with 1-2 teaspoons oil.
Squeeze the lime juice over the veggies. Slice the steak very thinly, then chop into small pieces. Serve the steak and vegetables with lime wedges, tortillas and your other favorite toppings.
Makes 6 servings (2 oz meat, 2 tortillas and 1/4 cup veggies)
NUTRITION:
Per serving: 330 calories; 13 g fat, 5 g saturated fat, 39 mg cholesterol, 366 mg sodium, 31 g carbs, 23 g protein.