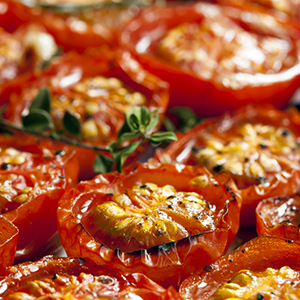 Foodie Friday - Herb-Roasted Tomatoes
This fast and easy side dish only has a few ingredients and you can use any fresh herbs that you want. If you don't have fresh herbs, throw in some dried herbs, just cut the volume in half. Drying herbs concentrates and intensifies the flavor so you won't need as much.
INGREDIENTS
2 pints cherry or grape tomatoes, halved
1 medium onion, thinly sliced
4 cloves garlic, minced
3 tbsp chopped fresh thyme
3 tbsp chopped fresh Italian parsley
2 tbsp olive oil
1 tbsp red-wine vinegar
½ tsp salt
¼ tsp pepper

INSTRUCTIONS
Preheat oven to 450 degrees. Combine tomatoes, onions, herbs, olive oil and vinegar on a large baking sheet and toss to coat. Sprinkle with salt and pepper and roast, stirring once, until tomatoes and onions are tender – about 15-20 minutes.

NUTRITION
Per 1/2 cup: 67 calories, 4 g fat, 0g saturated fat, 0 mg cholesterol, 198 mg sodium, 6 g carbs and 1g protein.