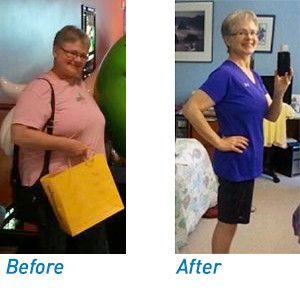 Exercise Eases MS Issues for Kathy P.
Member Kathy P. from Tigard, OR has been living with Multiple Sclerosis (MS) for years. Starting with lower impact group exercise classes and working her way up, Kathy has lost 58-pounds and made her MS obstacles less challenging. Check out Kathy's story.
"I have Multiple Sclerosis, which causes fatigue and dizziness. I also have bad knees and have had five surgeries so far. After a certain amount of time, I found myself overweight and out of shape with my 50th birthday approaching.
With determination and the help of great doctors and the right medication, I was able to start attending aqua aerobic classes. The class is easy on my knees and helps with my balance issues while still providing a great workout.
I was determined to do more weight-bearing exercises and decided to try SilverSneakers® classes. Before long, I was attending three times a week, improving balance, gaining strength, losing weight and having more energy to do other things in my life.
The next step was Zumba® Gold which I also totally love! I now have a combination of classes that I attend and even bought shoes for Zumba® so I can move more easily and make the right moves!
I give the SilverSneakers class credit for bringing me to this happy place in my life. I am able to enjoy my life more fully by doing the things that I love with fewer struggles.
I have friends at the gym and enjoy going not only for the workout, but for the social aspect as well.
Since my before picture I have lost 58 pounds and 36 of those pounds are gone since starting SilverSneakers.
Whatever my health issues may toss at me, I'm now better equipped to handle any challenges I may face."