Foodie Friday - Taco Salad in a Tortilla Bowl
Today's a Mexican #FoodieFriday! This #HealthyRecipe for taco salad has a creamy dressing and it's served in a non-fried tortilla bowl that you make in the microwave!
This taco salad is just like the ones you'd get in a restaurant... except it's MUCH lower in calories and fat! Also, the portion size of our taco salad is more reasonable than the restaurant.
INGREDIENTS
2/3 cup light sour cream
Juice of one lime
1-2 teaspoons canned chipotle peppers, minced
1 tsp ground cumin
1 tsp dried oregano
¼ cup chopped cilantro
4 cups shredded romaine lettuce
2 cups roasted boneless, skinless chicken breast, chopped
2 Roma tomatoes, seeded and diced
½ cup black olives, sliced
½ avocado, peeled and cubed
½ small red onion, diced
1 (15-ounce) can no salt added black beans, rinsed and drained
4 (8-inch) flour tortillas


INSTRUCTIONS
For dressing, combine first six ingredients and mix well. Only add as much chipotle as you'd like. Visit our blog for the recipe!

For tortilla bowls, prick both sides of each tortilla repeatedly with a fork. Gently place one tortilla into a microwave-safe bowl. Microwave the tortilla for 2-3 minutes or until lightly browned (see note). Remove tortilla and allow it to cool. Repeat with remaining tortillas.

NOTE: Microwaves cook differently and these can burn really quickly! Keep an eye on your first bowl until you know how many minutes your bowls will need to cook.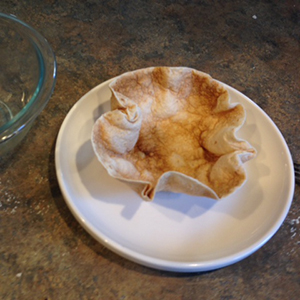 Combine the remaining ingredients and mix well. Drizzle with dressing and toss to coat. Divide salad between the tortilla bowls and enjoy!

NUTRITION
Per bowl:  441 calories, 12 g fat, 2.6 g saturated fat, 50 mg cholesterol, 687 mg sodium, 52 g carbs and 27 g protein