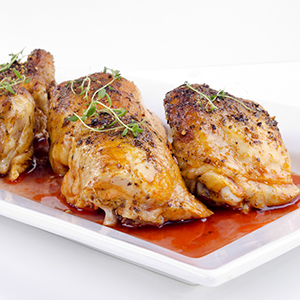 Foodie Friday - Roasted Chicken Thighs with Dijon
It's #FoodieFriday and we've got Roasted Chicken Thighs with Dijon on the menu!
Today's #HealthyRecipe is crispy on the outside but tender on the inside; be sure to share it with your chicken-loving friends.
INGREDIENTS
1 tbsp olive oil
8 bone-in chicken thighs, skin removed
1/2 tsp salt, divided
1/2 tsp black pepper, divided
1/2 cup chopped onion
2 tsp fresh thyme, chopped
1 cup low sodium chicken broth
4 tsp flour
1 tsp Dijon mustard
INSTRUCTIONS
Preheat oven to 425 degrees. Heat oil in a large ovenproof skillet over medium-high heat. Season chicken with 1/4 teaspoon salt and 1/4 teaspoon pepper. Place chicken in skillet and brown, about 4 minutes per side. Bake chicken at 425 until no longer pink, about 15 minutes.
Remove chicken from skillet and keep warm. Return skillet to medium-high heat. Add the onion and thyme and sauté until tender, about 5 minutes. Combine flour and chicken broth and whisk until smooth. Add flour and broth mixture to skillet, bring to boil and cook for 2 minutes. Remove from heat and add mustard and remaining 1/4 teaspoon salt and 1/4 teaspoon pepper. Serve sauce over chicken.
NUTRITION
For two thighs:  221 calories, 9 g fat, 2 g saturated fat, 114 mg cholesterol, 498 mg sodium, 4 g carbs and 28 g protein.