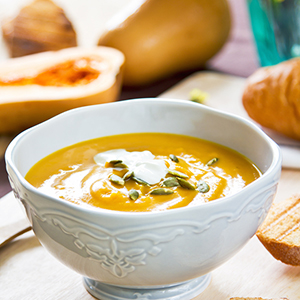 Roasted Pear and Butternut Squash Soup
Today's Foodie Friday takes advantage of the fall harvest and seasonal veggies. Our Roasted Pear and Butternut Squash Soup is warm and comforting, especially on a cool fall evening. Aside from tasting great, you'll also get 350% of your daily vitamin A and 70% of your daily vitamin C.
You can also substitute vegetable broth and vegan cheese for a vegetarian or vegan version.
INGREDIENTS
2 ripe pears, quartered and cored
2 pounds butternut squash, peeled, seeded and cut into chunks
2 medium tomatoes, quartered
1 large leek
2 cloves garlic, crushed
2 tbsp extra-virgin olive oil
1/2 tsp salt, divided
Ground black pepper
4 cups low-sodium chicken or vegetable broth
1 tbsp thinly sliced chives
1 ounce unsalted, roasted pumpkin seeds or pepitas
1 ounce crumbled goat cheese
INSTRUCTIONS
Preheat oven to 400 degrees. Slice tough ends of leek, slice in half lengthwise and rinse well to remove any sand.
Combine pears, squash, tomatoes, leek and garlic on a large baking sheet. Drizzle with olive oil and toss to coat. Season veggies with 1/4 teaspoon salt and pepper. Roast veggies, stirring occasionally until tender, about 40-50 minutes.
Allow veggies to cool slightly. Then combine veggies and chicken broth in a blender or food processor and puree until smooth. You may need to work in batches.
Transfer pureed veggies to a large saucepan and season with remaining salt. Heat soup over medium-low heat until hot, about 10 minutes. Garnish with chives, pumpkin seeds and goat cheese.
NUTRITION
Per 1 1/3 cup:  226 calories, 8.5 g fat, 7.5 saturated fat, 4.5 mg cholesterol, 586 mg sodium, 36 g carbs