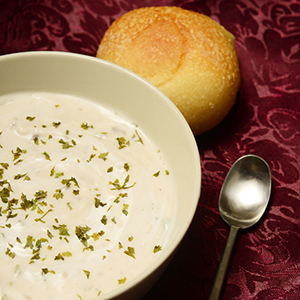 Foodie Friday - Cream of Turkey Soup
It's the day after Thanksgiving and we've all got tons of leftovers we're not sure what to do with. Here's a great healthy recipe that'll use your leftover turkey in a healthy way the whole family will enjoy! #foodiefriday
INGREDIENTS
1 tablespoon extra-virgin olive oil
2 cups sliced mushrooms, (about 4 ounces)
3/4 cup chopped celery
3/4 cup chopped carrots
1/4 cup chopped shallots
1/4 cup all-purpose flour
1/4 teaspoon salt
1/4 teaspoon freshly ground pepper
4 cups reduced-sodium chicken broth
1 cup quick-cooking or instant wild rice
3 cups shredded cooked turkey
1/2 cup reduced-fat sour cream
2 tablespoons chopped fresh parsley

INSTRUCTIONS
Heat oil in a large saucepan over medium heat. Add mushrooms, celery, carrots and shallots and cook until softened, about 5 minutes. Add flour and salt and pepper and cook, stirring, for 2 minutes more.

Add broth and bring to a boil, scraping up any browned bits. Add rice and reduce heat to a simmer. Cover and cook until the rice is tender, 5 to 7 minutes. Stir in turkey, sour cream and parsley and cook until heated through, about 2 minutes more.

NUTRITION
Per serving: 354 calories, 9 g fat, 3 g saturated fat, 87 mg cholesterol, 378 mg sodium, 27 g carbs and 36 g protein.