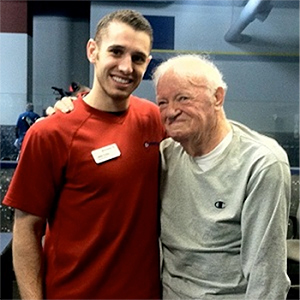 Korean War Veteran Reaches His Goal!
Korean War Veteran, Nicholas R. from Woodland Hills, CA only had one goal: to be able to get off the floor without assistance. During the war, an explosion riddled Nicholas' left arm with shrapnel, creating the need for amputation. Nicholas lived most of his life with a prosthetic arm but as he got older, simple tasks such as getting off the floor became much harder.

One of Nicholas' fears was falling while home alone and not being able to get up. Nicholas started working with Personal Trainer John C. at our West Hills Super-Sport location for help reaching his goal. John started an exercise routine to improve Nicholas' balance and stability while increasing his strength. John also taught Nicholas some tips for getting off the floor in spite of his limitations.

Nicholas reached his goal and is able to stand up from the floor unattended. We think it's great that Nicholas is investing in his health to maintain his quality of life well as he gets older.