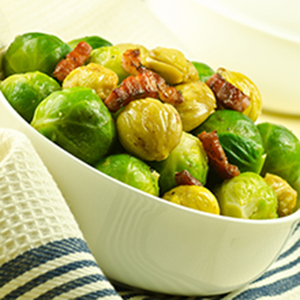 Foodie Friday - Brussels Sprouts with Chestnuts
Brussels sprouts are packed with vitamins C and K along with many other cancer-fighting nutrients. This healthy recipe is a fall favorite that will turn any meal into something special.

INGREDIENTS
2 pounds Brussels sprouts, trimmed and halved
2 tablespoons extra-virgin olive oil
3 tablespoons reduced-sodium chicken broth
3/4 cup roasted chestnuts, chopped*
2 teaspoons chopped fresh sage
1/2 teaspoon salt

* Roasted chestnuts are available in most grocery stores during the fall and winter. If you can't find them, toast ¾ cup pecans in a dry skillet until fragrant and then coarsely chop.

INSTRUCTIONS
Bring a large pot of water to a boil. Add Brussels sprouts and cook until bright green and just tender, about 6 to 8 minutes. Place Brussels sprouts in ice water to stop cooking. Drain well.

Heat oil and broth in a large skillet over medium-high heat. Add Brussels sprouts, chestnuts and sage and cook, stirring often, until heated through, about 2 to 4 minutes. Season with salt and pepper and enjoy!

NUTRITION
Per serving: 68 calories; 3 g fat, < 1 g saturated fat, 3 mg cholesterol, 117 mg sodium, 10 g carbs and 2 g protein.