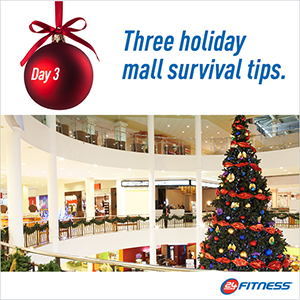 12 Days of Fitness - Day 3
On the third day of fitness, we've got THREE healthy tips for surviving the mall! With only two Saturday's left before the big day, many will be hitting the mall today. Try these tips to keep your fitness goals in check during your time at the mall. #12daysoffitness
1. Park and walk. Rather than circling for the closest parking spot, park in the last row and walk. Five minutes walking burns over 10 calories – 10 calories more than you'd burn otherwise. You car doors will thank you too!
2. Avoid the food court. For some, the smell of cinnamon rolls (loaded with over 800 calories each) is enough to give into temptation. Stay off Santa's naughty list by avoiding the food court.
3. Bring healthy snacks. To keep hunger at bay and fuel your spree, bring healthy snacks such as string cheese, fat-free pretzels or fruit.