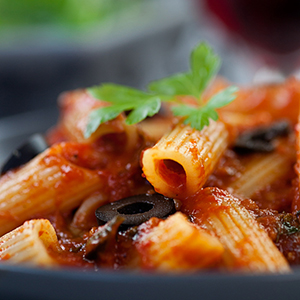 Foodie Friday - Beef & Eggplant Rigatoni
Another remade Italian classic! Our healthier version of Beef Rigatoni uses extra lean ground beef and eggplant – all the flavor and meaty texture with half the fat and calories.


INGREDIENTS
8 ounces whole-wheat rigatoni or other bite-sized pasta
2 teaspoons extra-virgin olive oil
8 ounces 92%-lean ground beef
4 cloves garlic, chopped
1/2 teaspoon fennel seed
1 tablespoon chopped fresh oregano, or 1 teaspoon dried
1/2 teaspoon salt
1/2 teaspoon freshly ground pepper
3 cups diced eggplant, (about 1/2 medium)
2 8-ounce cans no-salt-added tomato sauce
1 cup red wine
1/2 cup crumbled feta
2 teaspoons roasted pine nuts

INSTRUCTIONS
Heat oil in a large nonstick skillet over medium-high heat. Add beef, garlic, oregano, salt and pepper and fennel seeds and cook until beef is browned, about 3 minutes.

Add eggplant and cook another 5 minutes. Add tomato sauce and wine and cook until the sauce begins to thicken and the eggplant becomes tender, about 10 minutes. Serve over pasta, topped with crumbled feta and pine nuts.

Makes 4 servings

NUTRITION
Per serving:  390 calories, 6 g fat, 1 g saturated fat, 20 mg cholesterol, 342 mg sodium, 57 g carbs and 23 g protein.