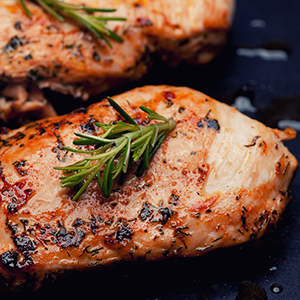 Foodie Friday - Tuscan Chicken
Today's #healthyrecipe will fill you up without filling you out! Our hearty Tuscan Chicken with Cannellini Beans, with only four main ingredients, will give you a taste of sun-drenched Tuscany in the middle of winter. Best of all, you'll have it on your table in a healthy heartbeat!

INGREDIENTS
1 pound boneless, skinless chicken breast
1 teaspoon dried rosemary or 2 teaspoons fresh rosemary, chopped
¼ teaspoon salt
¼ teaspoon ground black pepper
1 cup fat-free, reduced-sodium chicken broth
1 16 ounce can cannellini beans, rinsed and drained
2 tablespoons chopped sun-dried tomatoes

INSTRUCTIONS
Coat a large nonstick skillet with cooking spray and heat over medium-high heat until hot. Add chicken and sprinkle with rosemary, salt and pepper. Stir-fry for 2 minutes.

Add broth, beans and sun-dried tomatoes and bring to boil. Reduce heat and simmer uncovered until chicken is cooked through, about 8 minutes.

Makes 4 servings.
NUTRITION
Per serving: 193 calories, 2 g fat, less than 1 g saturated fat, 66 mg cholesterol, 586 mg sodium, 11 g carbs and 29 g protein.