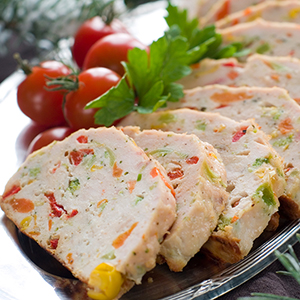 Foodie Friday - Turkey & Vegetable Meatloaf
By substituting lean ground turkey breast for ground beef, our healthier Turkey and Veggie meatloaf drops 183 calories and 24 grams of fat per serving. The veggies add moisture and it's a great way to sneak in veggies if you have picky kids to feed.


INGREDIENTS
1 tablespoon extra-virgin olive oil
1 small zucchini, finely diced
1 red bell pepper, finely diced
1 yellow bell pepper, finely diced
5 cloves garlic, minced
1/2 teaspoon red pepper flakes
1 large egg, lightly beaten
1 tablespoon finely chopped fresh thyme
1/2 cup chopped fresh parsley
1 1/2 pounds extra-lean ground turkey
1 cup dried breadcrumbs
1/2 cup freshly grated Romano or Parmesan cheese
3/4 cup ketchup

INSTRUCTIONS
Heat oven to 425 degrees. Heat the oil in a large skillet over medium-high heat. Add the zucchini, bell peppers, garlic and 1/4 teaspoon red pepper flakes. Season with salt and pepper and cook until the vegetables are almost soft, about 5 minutes. Set aside to cool.

Whisk the egg and fresh herbs in a large bowl. Add the turkey, breadcrumbs, grated cheese, 1/2 cup ketchup and the cooled vegetables; mix until just combined.

Gently press the mixture into a 9-by-5-inch loaf pan. Whisk the remaining 1/4 cup ketchup and 1/4 teaspoon red pepper flakes in a small bowl; brush the ketchup over the meatloaf and bake for 1 hour. Let cool for 10 minutes before slicing.

Makes 8 servings

NUTRITION
Per serving: 256 calories, 12 g fat, 4 g saturated fat, 104 mg cholesterol, 451 mg sodium, 16 g carbs and 20 g protein.