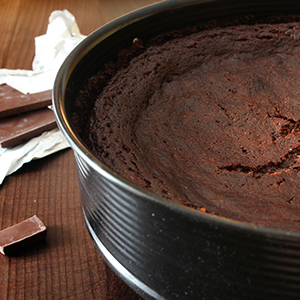 Foodie Friday - Flourless Chocolate Cake
Celebrate #ValentinesDay and the 50th anniversary of the American #HeartMonth with something chocolate! Our Flourless Chocolate Cake combines two heart-healthy powerhouses: oranges and chocolate. This easy recipe will not only impress your Valentine, it'll keep him/her healthy at the same time. #foodiefriday

When picking up your ingredients, look for dark chocolate that is 70% (or higher) cacao solids. A high percentage of cacao solids gives antioxidants, improves cholesterol and lowers blood pressure without adding sugar and fat.

When it comes to the produce aisle, oranges are one of the healthiest things you'll find. Sure there's tons of vitamin C but oranges are also high in B vitamins, cholesterol-absorbing fiber and many cancer-fighting phytochemicals.
INGREDIENTS
Cooking spray
3/4 cup powdered sugar
3 large eggs
2 tablespoons cornstarch
3 tablespoons unsweetened cocoa
3 tablespoons fresh orange juice
1 tablespoon hot water
Dash of salt
2 ounces 70% dark chocolate, chopped

INSTRUCTIONS
Preheat oven to 350 degrees. Coat an 8-inch springform pan with cooking spray and line the bottom with parchment paper. Wrap the outside of pan with aluminum foil.

Place 3/4 cup sugar and eggs in a bowl and beat with a hand mixer on high speed for seven minutes. Combine the cornstarch and cocoa in a small bowl and set aside. Place the juice, water, salt and chocolate in a small glass bowl. Microwave on high for 1 minute, stirring every 20 seconds, until smooth. Add cornstarch mixture and whisk until smooth.

Gently stir one-fourth of the egg mixture into chocolate mixture. Gently fold in the remaining egg mixture and the place the batter into the prepared pan. Place the pan in a 13 x 9-inch baking pan and carefully add hot water to a depth of 1-inch.

Bake at 350 degrees until the top is set, about 20 minutes. Remove cake pan from water and cool 5 minutes on a wire rack. Loosen cake using a knife and cool to room temperature. Cover and chill.

Makes 8 slices

NUTRITION
Per slice: 175 calories, 6 g fat, 3 g saturated fat, 107 mg cholesterol, 33 mg sodium, 26 g carbs and 4 g protein.