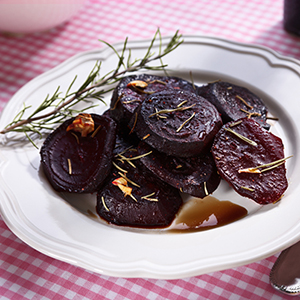 Foodie Friday - Herb Roasted Beets
Roasting beets concentrates their flavor, while maintaining all of their nutritional benefits. Today's #foodiefriday for Herb Roasted Beets works great as a side dish or on top of a salad.

INGREDIENTS
2 pounds medium-sized beets (about 6)
1 large shallot, minced
Zest of one orange
3 tablespoons olive oil
1/4 cup each: chopped tarragon, flat-leaf parsley and chives

INSTRUCTIONS
Preheat the oven to 400 degrees. Chop beets into bite-sized pieces and arrange on a baking sheet. Add the herbs, shallots and orange zest, drizzle with olive oil and toss to coat. Salt and pepper to taste. Bake at 375 degrees until beets are tender, about 45 minutes.

Makes 6 servings

NUTRITION
Per serving: 119 calories, 7 g fat, 1 g saturated fat, 0 mg cholesterol, 106 mg sodium, 13 g carbs and 2 g protein.