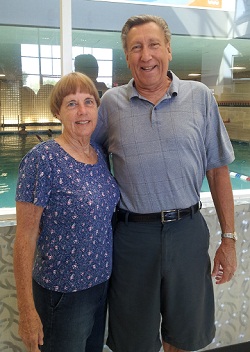 John and Bonnie - Getting Healthier Together
"My doctor told me to keep up the good work!" Bonnie and her husband John are getting healthier and losing weight @24HourFitness and their doctor couldn't be happier. Get John & Bonnie's story here! #healthyliving
John:
Two Years ago I joined 24 Hour Fitness. At the time I had high blood pressure and was overweight. I was also quite out of shape. For the last two years, I have been taking aqua classes along with SilverSneakers. The classes helped me lose 30 pounds and return my blood pressure to normal again.  I also do the treadmill and bike when my wife is in Zumba Gold.
I was also facing knee surgery when I joined 24 Hour Fitness but I've been able to put off the surgery due to my workout routine. Thank you 24 Hour Fitness for the senior classes you offer. A special thanks to Group X Instructor Ken S. for all of the help over the last two years. You have made a difference in my life.
Bonnie
I also started going to 24 Hour Fitness almost two years ago with my husband. High blood pressure and high cholesterol run in my family and I had been on medication for both for around ten years. In less than a year of going to SilverSneakers, Aqua Zumba Gold classes, I not only lost weight but my doctor took me off of all of my medication. My blood pressure and cholesterol are good now and I have kept the weight off.
My left ankle used to be very weak and I sprained it many times. Thanks to these classes my ankles are much stronger and my balance is also better. I never enjoyed exercise before but now I love my classes! I have made many wonderful friends. The classes are fun and the instructors are great.