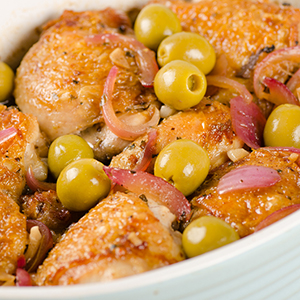 TGIFF - Braised Chicken Breast with Fennel
Let's face it, chicken breast can get boring but with over 8 grams of protein, 46 calories and 1 gram of fat per ounce, it's a healthy and inexpensive source of protein. TGI-FF is here to liven things up! Our Braised Chicken and Fennel recipe packs a lot of flavor into just a few calories. #foodiefriday
INGREDIENTS
3 large lemons
1 teaspoon salt
1 large fennel bulb
6 small chicken breasts, 3-4 ounces each
1 teaspoon dried oregano
1/2 teaspoon black pepper
2 cloves garlic
2 tablespoons olive oil
1/4 cup green olives
2 tablespoons capers, drained
1/2 cup dry white wine
1/2 cup water
2 tablespoons lemon zest
INSTRUCTIONS
Trim the stalks from the fennel, saving the green fronds. Slice the fennel lengthwise in 1/4-inch-thick slices, then slice these lengthwise into 1/2-inch pieces.
Cut the lemons in half, then cut each half into 3 to 4 pieces. Discard the seeds. Put the lemons in a bowl and sprinkle with salt. Add the chicken, pepper, garlic and oregano, then turn to coat. Set aside for about 30 minutes.
Heat 1 tablespoon olive oil in a large skillet over medium heat. Lightly brown the chicken, turning several times. Remove the chicken and set aside.
Add the remaining olive oil and the fennel. Cook for 6 to 8 minutes. Add the lemons, olives, capers, wine and water, scraping up the brown bits. Return the chicken to the pan. Cover and simmer for 20-30 minutes or until chicken is cooked through. Mince the fennel fronds, mix with the lemon zest, and sprinkle on top.
Makes 6 servings
NUTRITION
Per serving: 243 calories, 9 g fat, 1.5 g saturated fat, 70 mg cholesterol, 475 mg sodium, 7 g carbs and 27 g protein.