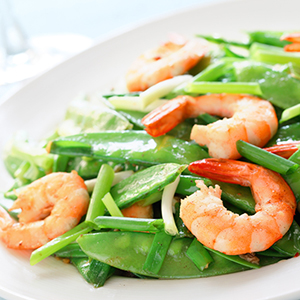 #TGIFF - Shrimp & Snow Pea Stir-Fry
This quick and healthy Shrimp and Snow Pea Stir-Fry calls for lots of veggies and low-fat shrimp. Best of all, you can have it on the table in under 10 minutes!
INGREDIENTS
1 teaspoon sesame oil
2 tablespoons minced fresh ginger
2 tablespoons low-sodium soy sauce
2 tablespoons seasoned rice vinegar
2 tablespoons low-sodium chicken broth
2 teaspoons sugar
1 teaspoon minced garlic
1 small red bell pepper, cut into 1 1/2-inch pieces
1 small red onion, cut into 8 wedges
2 cups snow peas, trimmed
1 1/2 pounds large shrimp
3 tablespoons sesame seeds, toasted

INSTRUCTIONS
Heat oil in a large nonstick skillet over medium-high heat. Combine ginger, soy sauce, vinegar, chicken broth, sugar and garlic and whisk well.

Add bell pepper and onion to pan and stir-fry 2 minutes or until crisp-tender. Add snow peas and shrimp and stir-fry an additional 3 minutes or until shrimp are pink. Add soy sauce mixture and cook 1 minute. Sprinkle with sesame seeds. Serve over rice if desired.

Makes 6 servings

NUTRITION
Per serving: 279 calories, 7 g fat, 1 g saturated fat, 259 mg cholesterol, 753 mg sodium, 14 g carbs and 37 g protein.