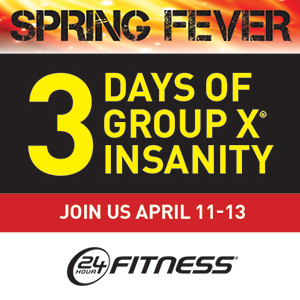 We've Got Spring Fever at 24 Hour Fitness!
Don't miss Spring Fever – three days of Group X® insanity that'll re-ignite your workout. Bring the heat and join us April 11-13 for themed dress-up days, in-club special offers and a lot of fun!
Red Hot Friday – turn up the heat and dress in red from head to toe
Animal Fever Saturday – go wild for Group X, wear your favorite animal prints and unleash your exercise beast
Disco Inferno Sunday – can you dig it, slip into your favorite disco gear and rock your exercise class '70s style
BRING A BUDDY

Bring a buddy for FREE and spark their workout too! You can download [link] a guess pass online and bring it to any participating location to join the fun. Be sure to bring a photo ID and allow a few minutes to check in.

Guests must have a photo ID and will need to sign a release form prior to club access. Class availability may vary per location. Restrictions apply. See club for details.

BRING A BUDDY 2
Fire up your routine—and your friend's—by bringing a friend free to personal training, only during our Spring Fever event. Get on your trainer's schedule and unleash the burn together.

Buddy Training Offer: From April 11-13, up to 1 guest may accompany member for free during member's paid personal training session.  Member must schedule training session in advance with member's personal trainer.  Availability may vary.   Additional restrictions apply.  See club for details.   

SPECIAL OFFERS
Be sure to check out other hot membership and retail discounts too!