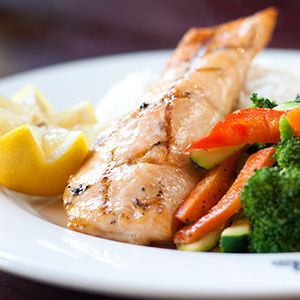 Bourbon Glazed Salmon - Must be Foodie Friday!
I always love adding salmon to my diet whenever possible for its health benefits and this Asian-inspired recipe offers some great new flavors to keep things fresh.
INGREDIENTS
3 tablespoons brown sugar
3 tablespoons bourbon
2 tablespoons low-sodium soy sauce
1 tablespoon grated peeled fresh ginger
1 tablespoon fresh lime juice
3 garlic cloves, minced
1/4 teaspoon freshly ground black pepper
4 (4-ounce) skinless salmon fillets
Cooking spray
1/4 cup thinly sliced green onions
1 tablespoon sesame seeds, toasted
INSTRUCTIONS
Combine first 7 ingredients in a large resealable plastic bag. Add salmon, seal it up and marinate in refrigerator 1 1/2 hours, turning occasionally.
Heat a large nonstick skillet over medium-high heat. Coat skillet with cooking spray. Add salmon and marinade to skillet and cook about four minutes per side or until salmon flakes easily with a fork. Serve salmon topped with sauce and green onions and sesame seeds sprinkled on top.
You can also cook the salmon on the grill. However, be sure to heat the marinade to boiling in a small saucepan before serving.
Makes 4 servings
NUTRITION
Per serving: 253 calories, 13.7 g fat, 3 g saturated fat, 87 mg cholesterol, 281 mg sodium, 13 g carbs and 37 g protein.