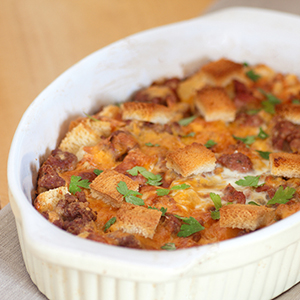 Breakfast Casserole
When trying to eat healthy, many people think sausage is taboo. But you can get the flavors of sausage with less fat and calories by choosing a healthier cut of meat – the best of both worlds. Don't miss the most important meal of the day; try this #healthyrecipe for Breakfast Casserole this weekend.

INGREDIENTS
Non-stick cooking spray
1 (16 ounce) package lean turkey breakfast sausage
1 cup chopped red bell pepper
1 medium onion, chopped
1 tablespoon minced garlic
3 slices whole-wheat sourdough bread, cut into 1-inch pieces
6 ounces shredded low-fat cheddar cheese
2 3/4 cups egg substitute

INSTRUCTIONS
Heat a non-stick skillet over medium-high heat. Spray skillet with cooking spray. Add turkey sausage and brown until almost cooked through. Add the red pepper, onion and garlic and continue cooking until veggies are soft and sausage is no longer pink.

Arrange half the bread pieces in bottom of prepared casserole. Top bread with half the cheese, half the bell pepper mixture, and half of the sausage. Repeat layering. Pour egg substitute evenly over top. Cover and refrigerate four hours or overnight.

Heat oven to 375 degrees. Bake 45 minutes or until set.

Makes 8 servings

NUTRITION:
Per serving: 220 calories, 5 g fat, 2 g saturated fat, 25 mg cholesterol, 750 mg sodium, 16 g carbs and 24 g protein.