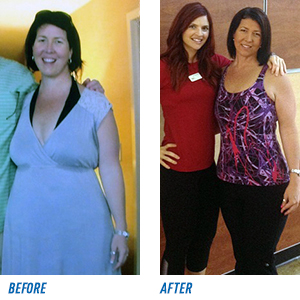 Jen F. Makes Time to Exercise, How About You?
Even though Jen travels 5 days/week, homework from her trainer has helped her lose over 40 pounds. We think the before and after pictures tell the tale. Check out Jen's story here! #maketime2exercise #noexcuses

I joined 24 Hour Fitness over a year ago but didn't come regularly at first. I started a gluten free diet the day after Christmas 2012 and quickly dropped 15 pounds. I was inspired by my initial success and started a cardio routine. After another five pounds were gone, I spoke with the club manager about getting set up with a personal trainer. I travel Monday through Friday between Orlando, Florida and Richmond, Virginia so my schedule can be tricky.

I was introduced to personal trainer Alison and explained my schedule so that she could provide me "homework" assignments to take on the road with me. She has been amazing! I can't praise her highly enough for being a great example, motivator, teacher, and now, a great friend. She has helped be the voice of reason to help me achieve my goals. I am now strength training three to four days a week and doing cardio four to five days.

I have dropped a total of 43.5 pounds since I started and many, many inches! This is just the beginning of my journey.
Jen F.
Orlando, FL