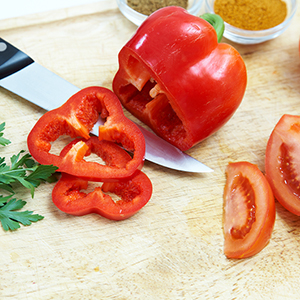 Ham & Swiss Strata
Try this quick and healthy side dish at your Easter feast this Sunday! Not cooking a holiday dinner? This dish is also prefect as a breakfast or brunch dish.  #foodiefriday #TGIFF
INGREDIENTS
4 cups chopped onion
1 cup (4 ounces) chopped ham
2 1/2 cups fat-free milk
1/4 teaspoon dry mustard
1/8 teaspoon black pepper
1 (8-ounce) carton egg substitute
8 cups (1/2-inch) cubed French bread
1 cup (4 ounces) shredded Swiss cheese
INSTRUCTIONS
Heat a large nonstick skillet over medium-high heat. Add onion and ham, and sauté 5 minutes or until onion begins to brown.
Combine the milk, mustard, pepper and egg substitute in a large bowl and stir until well-blended. Stir in the onion mixture. Add bread and toss gently to coat.
Arrange half of the bread mixture in a single layer in an 11 x 7-inch baking dish. Sprinkle with 1/2 cup cheese and top with remaining bread mixture. Cover strata, and chill 8 hours or overnight.
Preheat oven to 350°.
Uncover strata. Bake at 350° for 25 minutes. Sprinkle with 1/2 cup cheese; bake an additional 20 minutes or until set.
Makes 8 servings
NUTRITION:
Per serving: 245 calories, 7 g fat, 3 g saturated fat, 25 mg cholesterol, 539 mg sodium, 28 g carbs and 16 g protein.