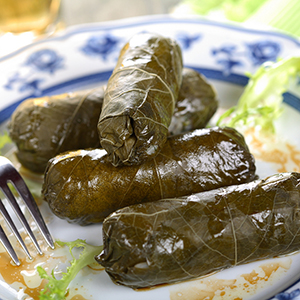 Stuffed Chard - Packed with Nutrition and Taste!
Try this quick Stuffed Chard Roll #healthyrecipe and get tons of nutrition in a tasty little package. One chard leaf fills half of your daily vitamin K and all of your vitamin A recommendations… all for a mere 9 calories! #foodiefriday
INGREDIENTS
1 pound extra-lean ground beef
1/2 cup plain dry breadcrumbs
2 medium shallots, minced
1 1/2 teaspoons Italian seasoning
1 teaspoon garlic powder
1/2 teaspoon ground black pepper
8 large Swiss chard leaves, stems removed
1 (14 ounce) can low-sodium chicken broth
1 tablespoon extra-virgin olive oil
1/4 teaspoon crushed red pepper
1 (28 ounce) can low-sodium crushed tomatoes
1/2 cup shredded Parmesan cheese, (optional)
INSTRUCTIONS
Gently combine beef, breadcrumbs, 1 tablespoon shallot, 1/2 teaspoon Italian seasoning, garlic powder and 1/4 teaspoon pepper in a large bowl until just combined. Divide the mixture into 8 (2 ounce) portions and form into oblong shapes.
Place one portion of beef on a chard leaf, closer to where the stem was removed. Tightly roll the chard around the beef, folding in the sides as you roll. Place each roll, seam-side down in a large nonstick skillet. Add broth, cover and bring to a boil. Reduce heat to a simmer and cook until beef is cooked through, 8 to 10 minutes.
For sauce, heat oil in a medium saucepan over medium heat. Add the remaining shallot, 1 teaspoon Italian seasoning, 1/4 teaspoon pepper and crushed red pepper. Cook until the shallot is soft, about 2 minutes. Stir in tomatoes and cook until slightly reduced and thickened, about 8 minutes. Serve the chard rolls topped with sauce and Parmesan cheese, if desired.
Makes 4 servings (2 rolls each)
NUTRITION
Per serving: 388 calories, 16 g fat, 5 g saturated fat, 43 mg cholesterol, 620 mg sodium, 32 g carbs and 32 g protein.