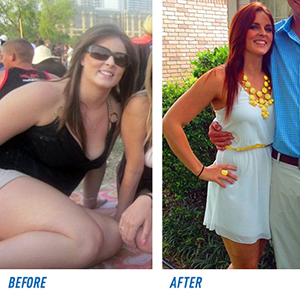 Lesley C. Lost 60 Pounds in Less Than a Year
"When I first started I had never done much weight training, primarily cardio and core training. Now I do it all!" Doing it all helped Lesley C. from Houston, TX lose 60 pounds in less than a year. #reasons2exercise
I starting working with 24 Hour Fitness in 2010 and immediately took advantage of our free membership and discounted personal training. I worked out on lunch breaks and attended some of our Group X classes.
At the end of my first year with the company, I had lost a total of 60 pounds and it has been life changing! I am now looking to compete in a bikini fitness competition, something I would have never imagined before becoming a part of the 24 Hour Fitness family!
When I first started I had never done much weight training, primarily cardio and core training. Now I do it all! I turned to #BODYPUMP to get started on my weight training and I also attend Allie's boot camp classes here at our club. Allie really pushes us with an amazing overall workout that combines strength training with cardio. Mixing up cardio, classes and weights has really been the key for my success.
Here are my top three tips for reaching fitness success:
Watch what you eat and track your food. Keep a log so you can see what you're taking in. Making your food ahead of time and bringing it along helps!
Work out at least five times per week. If you have time to watch TV or play on Facebook, you have time to work out!
Get a partner or a support group. Having someone support you or work out with you helps you stay on track. I also like my personal trainer who holds me accountable and pushes me beyond my comfort zone!