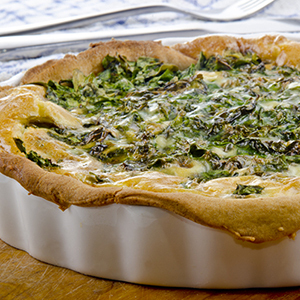 Turkey & Spinach Quiche... TGIFF!
Try our Turkey and Spinach Quiche recipe - made healthier with evaporated milk, reduced-fat cheese and egg substitute. You'll get all the flavor with less fat and calories.  #foodiefriday #healthyrecipe
INGREDIENTS
1 medium leek
1 tablespoon olive oil
2 cups cooked turkey breast, cubed
1/2 (10 ounce) package frozen chopped spinach, thawed and drained
1 unbaked ready-to-use pie crust (10-inch diameter)
1 1/2 cups shredded reduced-fat Swiss cheese
1 tablespoon all-purpose flour
1 cup egg substitute
1 1/2 cups evaporated milk
1/2 teaspoon salt
1/4 teaspoon black pepper
1/4 teaspoon ground nutmeg
DIRECTIONS
Preheat oven to 375 degrees. Trim end off leek and cut in half lengthwise. Wash under running water to remove any sand. Thinly slice halves crosswise, including only 2 to 3 inches of green tops.
Heat olive oil in large skillet over medium heat. Add leek and cook until soft, about five minutes. Add turkey and cook five minutes or until lightly browned. Add spinach and heat through.
Spoon turkey mixture into unbaked pie crust. Sprinkle cheese and flour over turkey mixture. Combine egg substitute, evaporated milk, salt, pepper and nutmeg in medium bowl. Pour egg mixture over cheese and bake 35 to 40 minutes or until knife inserted into center comes out clean. Let stand 5 minutes before serving.
Makes 8 servings
NUTRITION
Per slice: 280 calories, 11 g fat, 3 g saturated fat, 31 mg cholesterol, 622 mg sodium, 20 g carbs and 22 g protein.