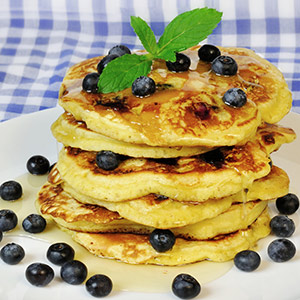 Spoil Mom with a Healthy Breakfast
Sunday is Mother's Day! Show mom you care with our #healthyrecipe for Whole-wheat Blueberry Pancakes, served in bed of course. #foodiefriday
WHY BLUEBERRIES?
Often referred to as a "super food," blueberries are packed with antioxidants and phytoflavinoids, which are known to lower the risk for heart disease and cancer. Blueberries are also an anti-inflammatory, which can help with many chronic illnesses.
INGREDIENTS
1 ¼ cups whole-wheat flour
¼ cup sugar
1 teaspoon baking powder
¼ teaspoon salt
1 large egg
1 tablespoon canola oil
1 cup nonfat milk
1 teaspoon vanilla extract
1 ½ cups fresh blueberries
INSTRUCTIONS
Whisk flour, baking powder and salt together in a large bowl. In a small bowl, combine egg, oil, milk and vanilla extract and whisk together. Add wet ingredients to dry and stir well. Gently fold in blueberries.
Heat a large nonstick skillet over medium-high heat. Pour ¼ cup batter on skillet for each pancake. Cook until bubbles form and the edges appear dry. Flip and cook for another 1-2 minutes.
Makes 4-6 servings
NUTRITION
Per pancake:  88 calories, 1.5 g fat, 0 g saturated fat, 18 mg cholesterol, 97 mg sodium, 15 g carbs and 3 g protein.