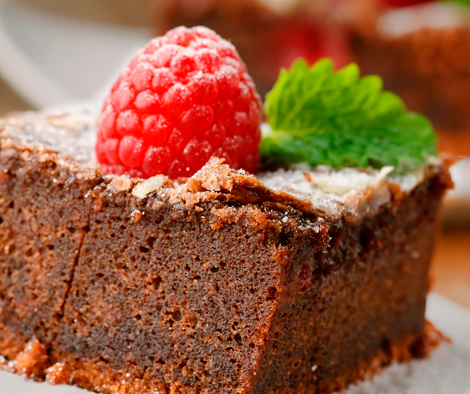 "Berry" Easy Chocolate Cake
Whether you love chocolate or just need a berry "delivery system," this #healthyrecipe for chocolate cake comes together in just a few minutes, and it tastes great piled high with summer's juicy raspberries. Raspberries are rich in fiber, vitamin C and flavonoids, which are known to benefit heart health. #foodiefriday
INGREDIENTS:
2/3 cup whole wheat flour
1 cup all-purpose flour
1/4 cup cocoa
1 teaspoon baking powder
1/2 teaspoon baking soda
1/4 teaspoon salt
1 egg
1 cup maple syrup
1/4 cup canola oil
1/2 cup unsweetened applesauce
Cooking spray
Fresh raspberries
1 tablespoon powdered sugar (optional)
INSTRUCTIONS:
Preheat oven to 350 degrees. In medium bowl, mix together 6 dry ingredients. In separate bowl, whip egg with syrup, oil and applesauce, then add to dry ingredients. Beat well to blend.
Pour batter into 8x8- or 9x9-inch baking pan sprayed with cooking spray. Bake about 40 minutes or until toothpick inserted in center comes out clean. Cool in pan. Invert onto cake platter. Serve slices with fresh raspberries. If desired, dust top of cake with powdered sugar.
Makes 9 servings
Per serving (1 slice): 247 calories, 7 g fat, 1 g saturated fat, 21 mg cholesterol, 66 mg sodium, 44 g carbs, 4 g protein, 2 g fiber