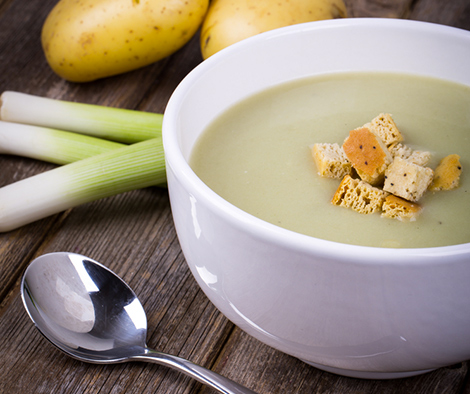 Potato Leek Soup for Summer Suppers
For a summertime version of a hearty winter favorite, this potato leek soup #healthyrecipe replaces cream with evaporated milk – and it's loaded with calcium, potassium and vitamins C and B6. A sprinkle of feta cheese brightens the soup's comforting flavors. #TGIFF
INGREDIENTS:
2 medium leeks
1 quart low-sodium chicken broth
3 medium potatoes, cubed
3 cloves garlic, minced
1 1/2 cups evaporated skim milk
1/4 cup snipped chives
1/2 cup crumbled feta cheese
INSTRUCTIONS:
Cut each leek in half lengthwise and wash under running water to remove sand or dirt from between the layers. Then thinly slice leek halves. In a large saucepan, combine the leeks, broth, potatoes and garlic and heat to a boil.
Reduce the heat to medium-low and simmer, partly covered, until the potatoes are tender, about 10-15 minutes. Stir in the milk and chives and simmer just until heated through – but don't boil. Ladle the soup into bowls, sprinkle the feta cheese on top, and serve.
Makes 4 servings
Per serving: 244 calories, 4 g fat, 3 g saturated fat, 20 mg cholesterol, 375 mg sodium, 37 g carbs, 24 g protein, 3 g fiber