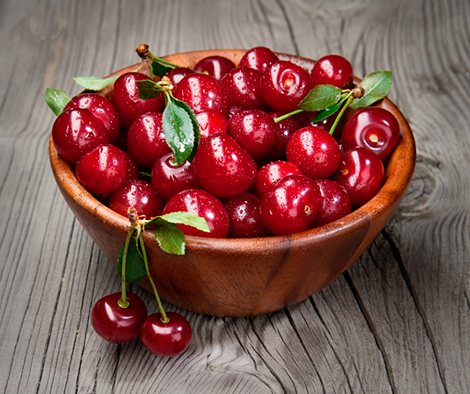 Life Is Like a Bowl of Cherries – Unless it's Foodie Friday
It's easy to enjoy summer's cherry bounty by the handful – but cooking with cherries doesn't have to be the pits. This week's #foodiefriday feature is a no-fuss, #healthyrecipe using frozen fruit, with all the same sweet goodness – and nutrients – as fresh cherries.
INGREDIENTS:
1 cup thawed frozen sweet dark cherries
3 green apples, sliced with seeds removed (peel if desired)
2 tablespoons cherry or apple juice
1 tablespoon flour
1/2 cup sugar
1/2 teaspoon cinnamon
1 cup lowfat granola
INSTRUCTIONS:
Preheat oven to 350 degrees. In medium bowl, mix cherries, apples and juice. In separate small bowl, mix together flour, sugar and cinnamon. Pour flour mixture over fruit and toss well to coat. Arrange in 9x9-inch baking dish sprayed with cooking spray. Top with granola. Cover with foil and bake 30 minutes. Uncover and continue baking another 15 minutes or until mixture is bubbling and apples are tender.
Makes 6 servings
Per serving: 201 calories, 1 g fat, 1 g saturated fat, 0 mg cholesterol, 32 mg sodium, 49 g carbs, 2 g protein, 3 g fiber