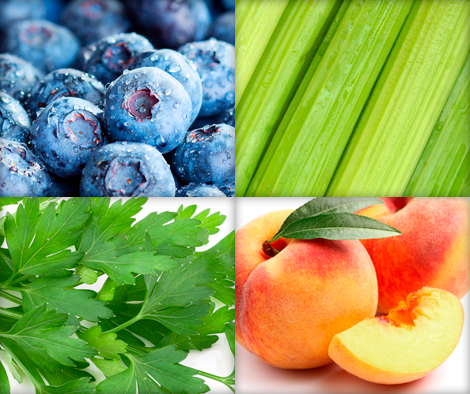 Blueberries Are Here!
Blueberries are more than a cereal or dessert topping – here's a #healthyrecipe from The Cooper Institute for a sweet and savory salad. Now you can enjoy the benefits of blueberries' anti-oxidant and brain-boosting properties for breakfast, lunch, and dinner!
Blueberry, Peach and Celery Salad
Ingredients
2 cups fresh blueberries
1 large peach, peeled, pitted and thinly sliced
2 ribs celery, thinly sliced on the diagonal
2 tablespoons roughly chopped flat-leaf parsley
2 tablespoons lemon juice
1 tablespoon olive oil
1/8 teaspoon salt
1/8 teaspoon cracked black pepper
Instructions
In a large salad bowl, combine blueberries, peach slices, celery slices, parsley, lemon juice, olive oil, salt and pepper.
Toss gently.
Serve immediately or cover and refrigerate up to 2 hours.
Makes 4 servings
Per serving: 95 calories, 3.9 g fat, 0.6 g saturated fat, 0 mg cholesterol, 102 mg sodium, 16 g carbs, 1.5 g protein, 2.9 g fiber